Armstrong Admits Doping On Oprah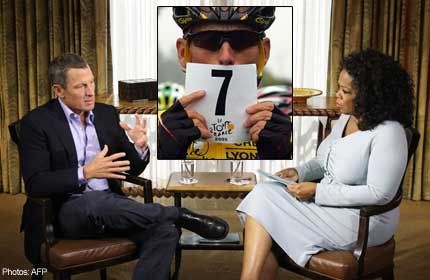 Lance Armstrong has admitted to using performance enhancement drugs to help him win his 7 Tour de France titles in an exclusive interview with Oprah in his hometown in Austin, Texas.
When asked directly if he used specific drugs, including erythropoietin, human growth hormone and blood doping, Armstrong said, "Yes", without emotion.
He was also asked why he lied repeatedly to which he replied, "I don't know I have a great answer. This is too late, probably for most people, and that's my fault. I view this situation as one big lie that I repeated a lot of times.
It's not as if I said no and moved off it. While I've lived through this process, I know the truth. The truth isn't what I said and now its gone."
A cancer survivor who inspired millions, Armstrong said he did not believe he could have achieved what he did without breaking the rules due to the culture of drugs in cycling.
"Not in that generation. I didn't invent the culture, but I didn't try to stop the culture," he said.
"It's hard to talk about the culture. I don't want to accuse anyone else. I'm here to acknowledge my mistakes."
He said he never considered himself to be a cheat and thought he could get away with it until competition tests were introduced and testing procedures dramatically improved.
"I looked up the definition of a cheat to gain an advantage. I didn't view it that way. I viewed it as a level playing field," he said.
Armstrong's admission came just months after the US Anti-Doping Agency released a detailed report describing him as the ringmaster of the "most sophisticated, professionalized and successful doping programme that sport has ever seen."
Both comments and pings are currently closed.