2013 Oscar Winners List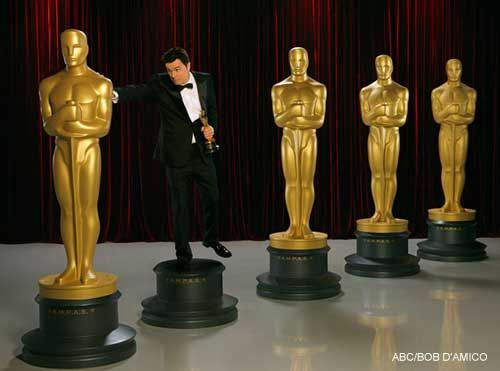 The 55th Annual Academy Awards this year is hosted by Seth McFarlane in Los Angeles.
Best Motion Picture
Beasts of the Southern Wild
Silver Linings Playbook
Zero Dark Thirty
Lincoln
Les Misérables
Life of Pi
Amour
Django Unchained
Argo (WINNER)
Achievement in Directing
David O. Russell, Silver Linings Playbook
Ang Lee, Life of Pi (WINNER)
Steven Spielberg, Lincoln
Michael Haneke, Amour
Benh Zeitlin, Beasts of the Southern Wild
Performance by an Actor in a Leading Role
Daniel Day-Lewis, Lincoln (WINNER)
Denzel Washington, Flight
Hugh Jackman, Les Misérables
Bradley Cooper, Silver Linings Playbook
Joaquin Phoenix, The Master
Performance by an Actress in a Leading Role
Naomi Watts, The Impossible
Jessica Chastain, Zero Dark Thirty
Jennifer Lawrence, Silver Linings Playbook (WINNER)
Emmanuelle Riva, Amour
Quvenzhané Wallis, Beasts of the Southern Wild
Performance by an Actress in a Supporting Role
Sally Field, Lincoln
Anne Hathaway, Les Miserables (WINNER)
Jacki Weaver, Silver Linings Playbook
Helen Hunt, The Sessions
Amy Adams, The Master
Best Supporting Actor
Alan Arkin, Argo
Robert De Niro, Silver Linings Playbook
Christoph Waltz, Django Unchained (WINNER)
Philip Seymour Hoffman, The Master
Tommy Lee Jones, Lincoln
Original Screenplay
Flight, John Gatins
Zero Dark Thirty, Mark Boal
Django Unchained, Quentin Tarantino (WINNER)
Amour, Michael Haneke
Moonrise Kingdom, Wes Anderson and Roman Coppola
Adapted Screenplay
Beasts of the Southern Wild, Lucy Alibar & Benh Zeitlin
Argo, Chris Terrio (WINNER)
Lincoln, Tony Kushner
Silver Linings Playbook, David O. Russell
Life of Pi, David Magee
Best Foreign-Language Film
Amour (Austria) (WINNER)
No (Chile)
War Witch (Canada)
A Royal Affair (Den)
Kontiki (Norway)
Best Animated Film
Brave (WINNER)
Frankenweenie
Wreck-It Ralph
ParaNorman
The Pirates! Band of Misfits
Original Score
Anna Karenina, Dario Marianelli
Argo, Alexandre Desplat
Life of Pi, Mychael Danna (WINNER)
Lincoln, John Williams
Skyfall, Thomas Newman
Original Song
"Before My Time," J. Ralph; Chasing Ice
"Pi's Lullaby," Mychael Danna & Bombay Jayashri; Life of Pi
"Suddenly," Claude-Michel Schönberg, Herbert Kretzmer and Alain Boulil; Les Misérables
"Everybody Needs a Best Friend," Walter Murphy & Seth McFarlane; Ted
"Skyfall," Adele Adkins & Paul Epworth; Skyfall (WINNER)
Cinematography
Anna Karenina
Life of Pi (WINNER)
Skyfall
Django Unchained
Lincoln
Costume Design
Anna Karenina (WINNER)
Lincoln
Snow White and the Huntsman
Les Misérables
Mirror Mirror
Editing
Argo (WINNER)
Silver Linings Playbook
Zero Dark Thirty
Life of Pi
Lincoln
Sound Editing
Zero Dark Thirty (WINNER-tie)
Skyfall WINNER (WINNER-tie)
Django Unchained
Argo
Life of Pi
Sound Mixing
Argo
Les Misérables (WINNER)
Lincoln
Life of Pi
Skyfall
Visual Effects
Life of Pi (WINNER)
The Hobbit: An Unexpected Journey
Snow White and the Huntsman
Marvel's The Avengers
Prometheus
Both comments and pings are currently closed.